EXCLUSIVE: 2024 GOP presidential candidate Nikki Haley will take the stage Friday at the Conservative Political Action Conference (CPAC) to warn that China is the "most disciplined enemy we've ever faced," and is an adversary that President Biden has allowed to "walk all over us."
"I'll restore our strength in the world," Haley will state, according to excerpts first obtained by Fox News Digital that contrast her aggressive foreign policy stance and Biden's perceived "weakness" on the world stage.
Haley, who served as the U.S Ambassador to the United Nations under former President Trump and South Carolina governor from 2011-2017, will make clear that China is the top threat facing the U.S.
"Make no mistake: Communist China is the strongest and most disciplined enemy we've ever faced. We need to hold China accountable. Let's start with COVID," she plans to say.
FBI DIRECTOR SAYS COVID PANDEMIC 'MOST LIKELY' ORIGINATED FROM CHINESE LAB
Her planned remarks come days after FBI Director Chris Wray told Fox News' Bret Baier this week that COVID-19 "most likely" came from a Chinese lab.
"The FBI has for quite some time now assessed that the origins of the pandemic are most likely a potential lab incident in Wuhan," Wray told Fox News in an interview that aired Tuesday. "Here you are talking about a potential leak from a Chinese government-controlled lab." 
Haley has said she will cut off all U.S. foreign aid to China as president and maintains COVID likely came from a Wuhan lab.
"China thinks the American era has passed. So do all our enemies," Haley's planned remarks say. "But they're wrong. America is not past our prime. It's just that our politicians are past theirs!"
GOP PRESIDENTIAL CANDIDATE NIKKI HALEY PLEDGES TO CUT BILLIONS IN FOREIGN AID TO CHINA, OTHER US ADVERSARIES
The former governor's "America is not past our prime" statement is a jab at CNN's Don Lemon after the host stated that Haley is "past her prime" on air last month following her presidential announcement.
Lemon was widely criticized for his remarks and put on temporary leave.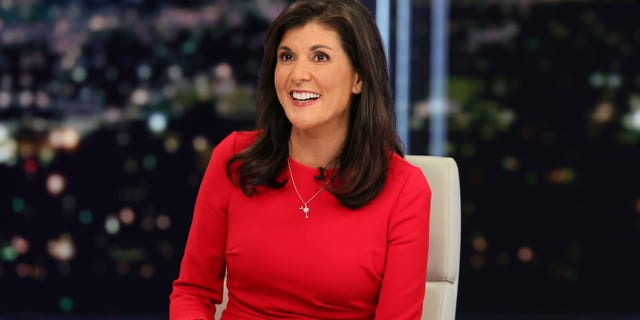 Haley's vision for the future includes restoring military strength, Americans' confidence in domestic policies and a strong economy.
"I'm confident we can take our country to her best days. The plan I am calling for will do just that. It's fundamentally conservative – and profoundly American. And I know it can unite our people," she will say.
"But real unity doesn't come from faint hearts and watered-down compromises. Real national unity comes from boldly proclaiming our national purpose. It comes from standing on principle – and persuading opponents to stand with us. Like I did as Governor, and again as Ambassador."
NIKKI HALEY TWEETS COVID 'LIKELY' CAME FROM CHINESE LAB, PLEDGES TO CUT US AID IF ELECTED PRESIDENT
Haley will lay out her plan for restoring election integrity and voter ID, as she did as South Carolina governor, ending earmarks and big government "handouts," restoring law and order and building a strong economy.
She will also take a swing at President Biden's "woke" military, which she says puts the country at a disadvantage.
"Wokeness is a virus more dangerous than any pandemic – hands down," her remarks say.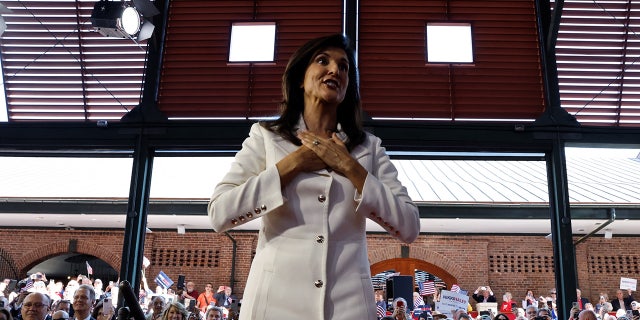 A mental competency test should remain on the table for politicians over the age of 75, she will maintain, despite criticism from expected 2024 candidate former Vice President Mike Pence.
Pence said a competency test should be up to the American people, and that the history of the country proves the "wisdom and common sense and judgment of the American people."
Haley is so far facing Trump in the 2024 race, who will be speaking at CPAC Saturday, as well as conservative commentator Vivek Ramaswamy, who spoke Thursday.
Former Secretary of State Mike Pompeo, who is also expected to run in 2024, will address the conference Friday following Haley. Pence and Florida Gov. Ron DeSantis are skipping CPAC this year.
CLICK HERE TO GET THE FOX NEWS APP
"If you're tired of losing, then put your trust in a new generation. And if you want to win – not just as a party, but as a country – then stand with me!" Haley will tell CPAC attendees.
"I am here to ask for your vote. But I want something else even more. I want us to inspire our country once again," her remarks say.