New Moons are a time for rejuvenation and manifestation, and if you have a lack in your life, then this is the time the collective will work to fill it, whether it's through a new experience, person, or item. We must make space for beginnings and foolish behavior during New Moons. Mind you, we are all fools when beginning something new, so don't be scared to get experimental.
The New Moon in Pisces occurs on Monday, February 20 at 2:06 AM Eastern Time. For newbies, a New Moon is when the Moon and the Sun meet in the sky, which astrologers call a conjunction. As an astrology practitioner, I'm all about precision because it's possible to cut through diamonds. New Moons are for setting intentions and goals to manifest. Take the theme of each New Moon as inspiration to bring forth the best version of yourself!
One of my least favorite quotes is, "Insanity is doing the same thing over and over again." For one, ew, what an oversimplification. The full quote is, "Insanity is doing the same thing over and over again and expecting different results." Often, the usage of that quote is justified by stating theoretical physicist Albert Einstein said it, but there's no substantial evidence that those were his words. The word "insanity" derives from the Latin term "insanitatem," which roughly translates to "unhealthiness." As a therapist and friend, I've observed that people are f**king hard on themselves, and in turn, on other people!
My best guess is that people treat themselves harshly because they are still learning to enter thrive mode. Within my culture, the term a "a hard head makes for a soft ass" is a painful message that we should be malleable, easily manipulated, and follow the leader. It uses shame to teach young people that their independent viewpoints and innovative ideas are unwelcome, inevitably stalling growth and halting communal evolution.
On February 20 at 2:06 AM Eastern Time, the Moon will tightly hug the Sun within the zodiac sign Pisces. During this New Moon, the zodiac sign rising at the horizon is Sagittarius, encouraging us all to begin with a willingness to be loud and potentially wrong. Sagittarius is notably a wise sign, and much of its wisdom comes from its stubborn and adventurous nature. The Sun and Moon within the realm of Pisces suggest you show a willingness to transcend shame and cruelty. Fortunately, doing the same thing over and over again is a form of exercise. Work out the kinks and witness your health improve.
Read your horoscopes based on your Sun, Moon, and Rising signs. Read for your Sun sign to gain insight based on the version of yourself that you're maturing into, your Rising sign to reflect on your present state, and your Moon sign for guidance on how to nurture your inner child.
Read your horoscope for the New Moon in Pisces:
Aries
Do you know that all your heart needs is yours, Aries? Willpower has a beautiful way of leading you exactly where you need to be. Trust that through releasing the outcome and managing your emotions, wonderful surprises await you. Any obstacle in your way is a challenge that will work out for you in the long run. Keep pushing!
Taurus
Your ability to stand out and wow people becomes your superpower during the spring, Taurus. Sometimes being told "just be yourself" sounds like terrible advice, especially if who you are is not well received. What may come as a pleasant surprise is that the right community will sincerely appreciate your unique qualities. Enjoy authenticity.
Gemini
Letting goes of what you expect your career to look like offers more time to observe how you're received in your profession. The New Moon in Pisces is a great time to take a step back and recognize how far you've come, Gemini. If you feel you're where you're supposed to be, maybe you're undervaluing all that you've worked for!
Cancer
Sometimes, new beginnings and difficult endings go hand and hand. Breakups are never easy, Cancer. They can feel confusing, exhausting, and disappointing– even if you're the one calling it quits. The New Moon is opening up your mind and allowing you to learn invaluable lessons. Be open to what you may not necessarily agree with.
Leo
Are you open to a flirtation, Leo? Some people suck the fun out of flirting by making it more severe than it has to be. For whatever reason, they mistake flirting with courtship, which is wrong! Flirting offers unattached fun, which can lead to something more. Think more about enjoying yourself and less about obligations.
Virgo
Love is shedding a gentle light onto your life, Virgo. With all that can go wrong, take stock of what has gone right and who is a gentle light in your life. Which friends and loved ones offer you safety, compassion, and a judgment-free zone? When the going gets rough, know that you are surrounded by people who help breathe life into you.
Libra
The mundane parts of life are arguably the moments that matter. Very few of us live lives that are unpredictable and can result in random changes at any time. Many live lives that offer predictability, security, and safety. This New Moon is a prompt that can inspire you to embrace switching up your routine. Consider taking the scenic route home instead of the fast path.
Scorpio
You are learning how to let more fun into your life. Spending life believing what could go right will go right, and trusting that all will work out in the long run, is pure positivity. You can honor that life comes with hardships and difficulties while acknowledging that you and those around you have the potential to be alright. Laughter, silliness, and respectful humor will benefit your health and love life!
Sagittarius
Your words are powerful, Sagittarius. You know that whatever your heart desires is within your reach. Granted, you might have to reach for an extended period. Take time during this New Moon to determine what you want to have in your life. Would you like to start a new love affair? Are you in need of a new job? Once you admit what you want, briefly imagine what it would be like if your desires had already come true.
Capricorn
After a tough year, you're beginning to find your voice again, Capricorn. Challenges to your sense of being respected are never fun. Enough blows to your self-esteem, and it is perfectly understandable if you feel down in the dumps. Thankfully, this New Moon reminds you that you have all the words to speak up for yourself.
Aquarius
If you take nothing from this horoscope except a reminder that your viewpoints matter, that's good enough! This New Moon is a cosmic reminder that you have a unique perspective, and what you share with those around you can help people who are still figuring out how to close chapters of their life. How do you balance being a generous queen without becoming a giving tree?
Pisces
Happy solar return, Pisces! This month marks the end of an emotional cycle and the beginning of a new quest. This New Moon is an excellent time to review your passions, motivations, and the things that make you happy. Once you have a sense of clarity over what activates your emotions, plan to make more time for what matters most to you.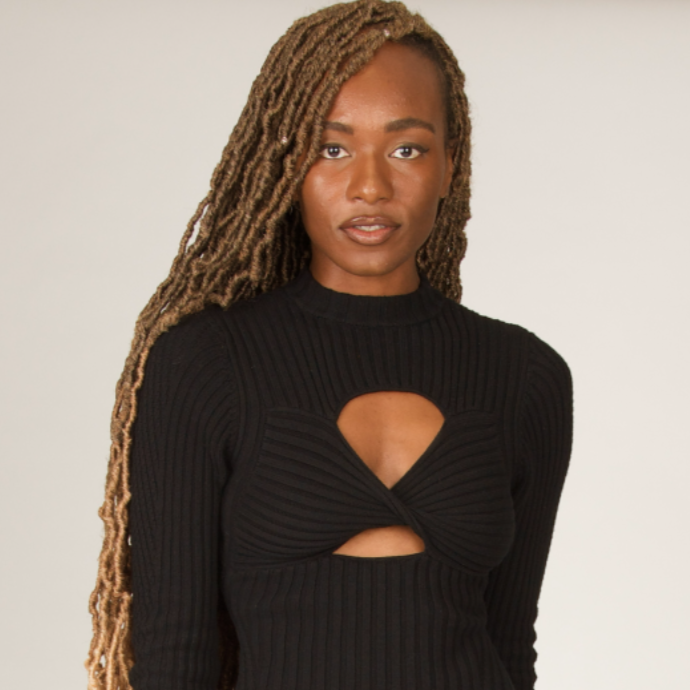 Astrologer
Monisha "Six" Holmes is an astrologer and Master of Social Work (MSW) who covers love, relationships, and wellness. She earned her MSW at Columbia University, where she specialized in contemporary social issues. Aside from writing, Monisha is the founder of Black Women Being, a media platform aimed at promoting wellness, spirituality, and justice.
Follow her on YouTube.